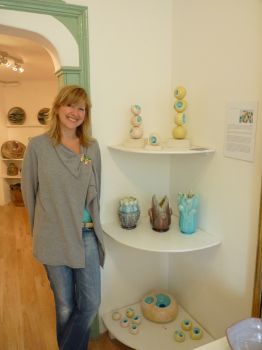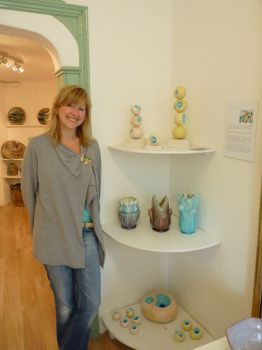 Michelle returned to Seattle in 2015 after living and working in London and Edinburgh for the last 15 years. Michelle is originally from Seattle where she studied ceramics under Patrick Siler at Washington State University. In 2000 she moved to London where she worked with Kate Malone for over eight years. She then moved to Edinburgh in 2009 and has been focusing on developing her own ceramic practice.
Michelle draws inspiration from a lifelong connection with coastlines having had a childhood spent exploring beaches and tidal pools. The shapes and patterns created by the sea have been a constant source of inspiration.
Michelle works predominantly in porcelain utilizing a variety of hand building techniques. She continues experimenting with scale, form and surface decoration. Michelle makes her own crystalline glazes; selecting a unique palate that reflects the colours and patterns of the coast.